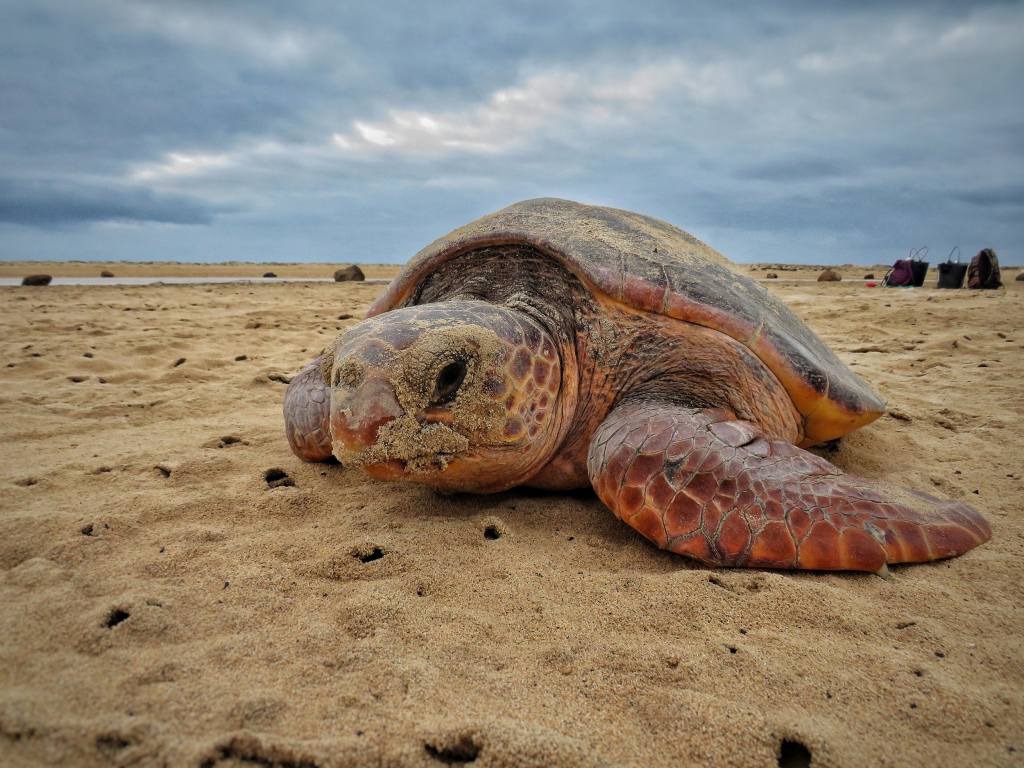 Project Biodiversity
Sea Turtle Nesting Season Volunteering Programme - 2022

Representante:
Berta Renon
Descripción del proyecto y el trabajo a realizar
The islands of Cabo Verde constitute the world's second most important nesting site for the Loggerhead turtle (Caretta caretta), one of seven marine turtle species found worldwide. This incredible species is a critical link in marine ecosystems, helping maintain the health of seagrass beds and coral reef systems that provide food and shelter for a vast array of other marine life. Unfortunately, human exploitation of this species has brought them to the brink of extinction. Poaching of this species along with the quick tourist and urban development are the main threats to the loggerhead sea turtle in Sal Island.
For the last 10 years, both international volunteers and members of the local community have worked tirelessly to ensure the protection of the female turtle – with beach patrols, community engagement activities. We have also been working closely with the government to improve regulations. While the number of turtles killed has drastically reduced, illegal poaching and trafficking persist.
Our mission continues in 2022 – hopefully with you as a part of our team! We aim to further empower the community to take action against the slaughter of nesting females, through direct beach protection, as well as grassroots education and engagement. As a critical part of our team, you will have the opportunity to directly contribute to the conservation of this
endangered species, and ultimately help build a more sustainable Cabo Verde.
The project encompasses patrolling beaches (night and morning) to monitor nesting and deter hunting, data collection, research, working with tourists and local businesses, operation of hatcheries, and outreach activities and beach clean-ups. The work is undertaken by local and
international field assistants and volunteers. Although there is a wide scope of activities within the project, protection of nesting turtles continues to be the main focus and this can be stressful and tiring, but ultimately highly rewarding. The usual nesting season is from June until October with hatchlings being born from mid-August until late December.
Objetivos del proyecto
Vida submarina
Vida de ecosistemas terrestres
Tipo de actividad
Voluntariado internacional
Localidad/Barrio
Santa Maria, Sal
Número de plazas
15 plazas
Idiomas necesarios
English or Portuguese
Idiomas hablados por la ONG
English / Portuguese / Spanish
Coste
1 week: 275€; 2 weeks: 340€; 3 weeks: 400 €; 50 € for each additional week.
Volunteer contributions cover accommodation, utilities such as water and electricity, and meals during your working period. Meals are not provided on rest days. Please note that water and basic meals (breakfast, lunch and dinner) are provided in the camp. Volunteer contributions also provide critical funds needed to support basic but essential needs of the project, allowing us to patrol the beaches more effectively, and ultimately protect more turtles.
Experiencia requerida
*Desire to participate in conservation; *At least 18 years old; *Must understand written and spoken English; *Good level of physical fitness; *High level of energy and flexibility; *Able to cope with physically challenging conditions (camping, long walks, working late nights, hot weather, insects); *Ability to work and live with people of different backgrounds and nationalities.
Duración del proyecto
1 de Julio, 2022 / 20 de Octubre, 2022
Horarios del voluntariado
Días de trabajo semanal:
6 days a week
Horas/Día:
7 horas al día
Servicios incluidos
Cama en habitación compartida
Desayuno
Comida / Almuerzo
Cena
WC compartido
Internet
Otros proyectos de esta ONG