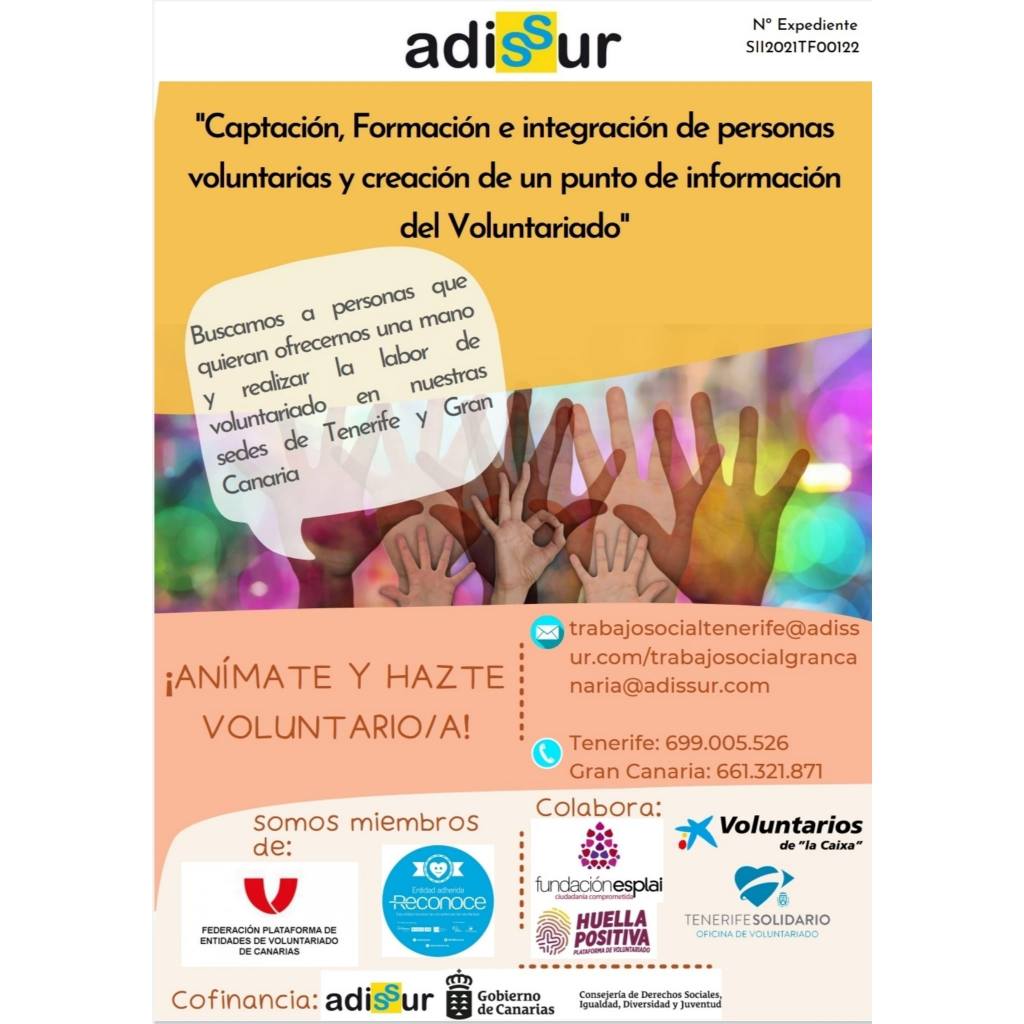 ADISSUR (Asociación de Discapacitados del Sur)
Voluntariado para trabajar con personas con Discapacidad

Representative:
Francisco
Description of the project and the work to be done
Las áreas de actuación del Voluntariado están comprendidas en las actividades y servicios programados, tales como: ocio, deporte, jornadas lúdicas, servicio de apoyo puntual, excursiones, visitas, piscina, talleres, estancias de respiro familiar, etc.; así como cualquier otra actividad y/o servicio que se programará durante el periodo que se ejecute voluntariado.
Project Objectives
Quality education
Gender equality
Reduced inequalities
Peace, justice and strong institutions
Type of activity
Local volunteering
Region
Santa Cruz de Tenerife
Neighborhood
Guía de Isora
Number of places
50 places
Languages spoken by the NGO
Español
Project duration
No specific dates
Volunteering time table
Weekly work days:
Flexible
Rules
El perfil de nuestro voluntariado es de persona sensibles ante la realidad social y especialmente a la realidad de personas con discapacidad intelectual. Tiene que sentirse identificado con la identidad de nuestra asociación. Debe de tener una actitud solidaria, paciente, responsable, con deseo de formarse continuamente, con compromiso, activo, coherente con lo que piensa y hace. Además de lo dicho, consideramos que debe tener cualidades como saber escuchar, respetar y crear buen ambiente, flexibilidad y tolerancia, capacidad de trabajo en equipo, creer en la importancia del entretenimiento para la salud, buen sentido del humor, dar respuesta de calma, buena comunicación, no poner barreras, saber poner límites, saber pedir ayuda, paciencia, entre otras.