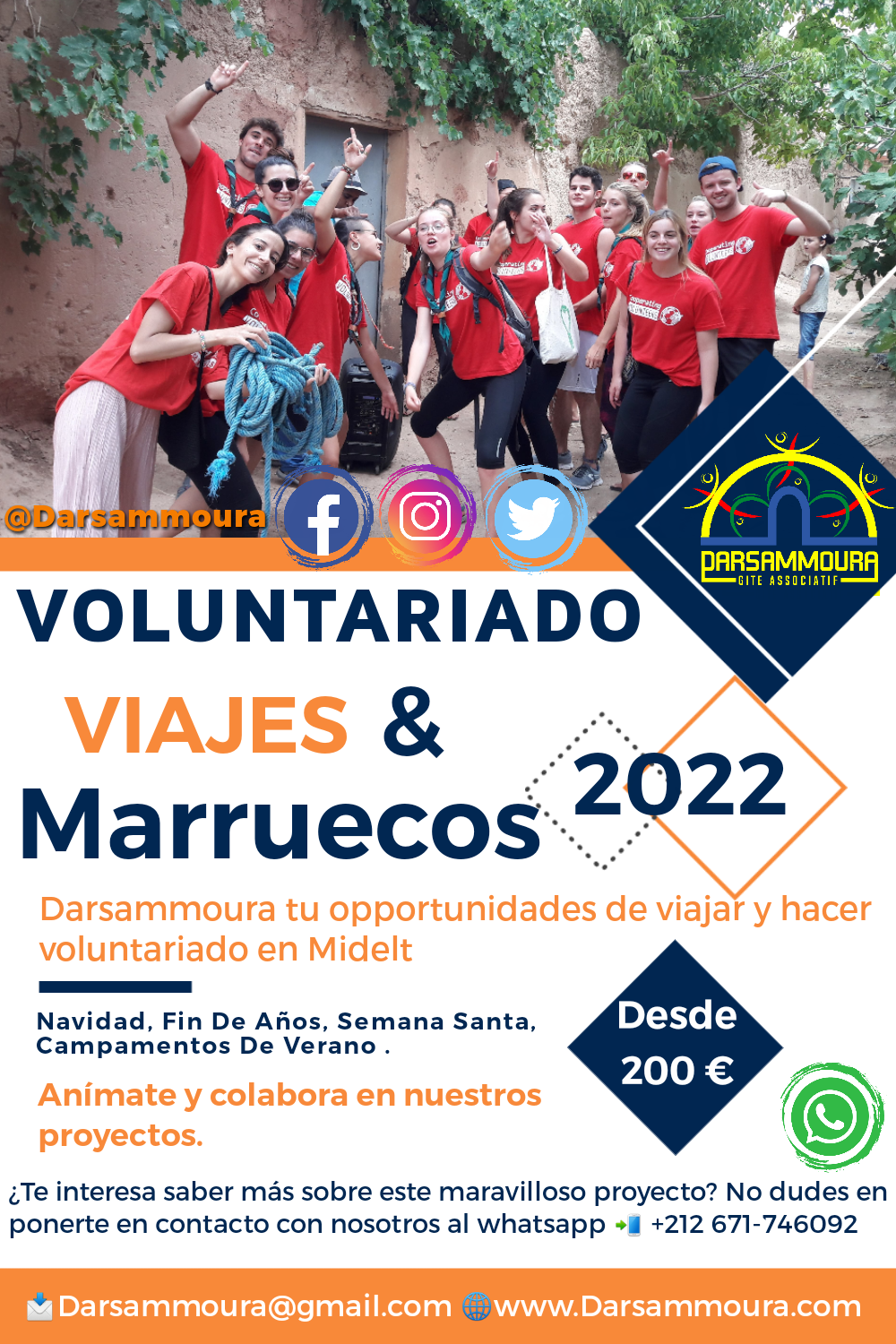 darsammoura
Viajes y Voluntariado en Marruecos
Representative:
darsammoura.com
Description of the project and the work to be done
¡Ser un voluntari@ en Darsammoura Midelt es una oportunidad increíble para obtener experiencia práctica con nuestra ONG local ! Cada ano , voluntarios apoyan a la comunidad del medio atlas a través de programas de voluntariado de uno hasta dos semanas para Los voluntarios participan como consejeros para el proyecto y como líderes para las actividades, trabajando junto con los voluntaries locales y el personal de Darsammoura . Ellos están asignados a un grupo de un rango de edades específico o son responsables por dirigir una actividad con los voluntarios locales. Adicionalmente, los voluntarios apoyan al personal de la ong local con respecto a la logística y a la organización en general.
Project Objectives
Quality education
Sustainable cities and communities
Type of activity
International volunteering
Number of places
25 places
Languages needed
francais - ingles - español
Languages spoken by the NGO
francais - ingles - español
Cost
200 euros
donacion de participación
Experience required
Tú también puedes formar parte del equipo de Darsammoura colaborando como voluntari@ en nuestro proyecto te permitirá vivir momentos inolvidables. a lo largo del año que consistir en: 👉 Vacaciones Solidarias | En cualquier época del año de septiembre a junio. 👉 Viajes Solidarios | Navidad - Fin de Año y Semana Santa . 👉 Campamentos de Verano | Programadas de Voluntariado grupales durante los meses de Junio, Julio y Agosto ¿Te interesa saber más sobre este maravilloso proyecto? No dudes en ponerte en contacto con nosotros al correo 📧Darsammoura@gmail.com Y si quieres apoyarnos comparte y ayúdanos a difundir. GRACIAS :
Project duration
No specific dates
Volunteering time table
Weekly work days:
lunes a vernes
Included services
Bed in shared room
Breakfast
Lunch
Dinner
Shared WC
Shower
Internet
Rules
REQUISITOS PARA SER VOLUNTARIO EN MARRUECOS

Toda persona, grupos de amigos, estudiantes, scouts o familias que quieran ser parte de un programa de voluntariado en Marruecos, deben cumplir con los siguientes requisitos:

Ser una persona comprometida, ya que participas activamente en actividades que requieren de tu compromiso – Voluntad y capacidad para trabajar en equipo – Ser empático (respeto a otras culturas o formas de vidas) – Se necesita flexibilidad y tener facilidad de adaptación – Buena conducta – Ser mayor de edad.