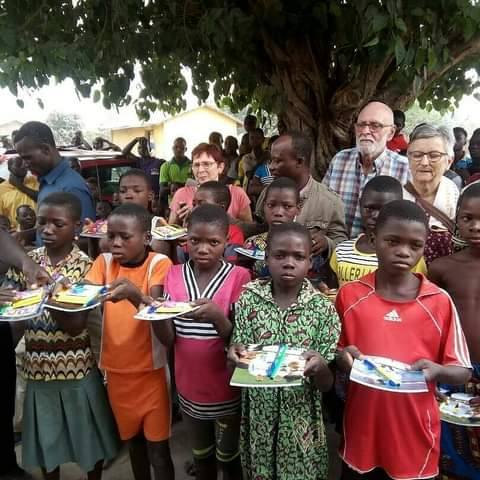 ONG KFC
KFC's NGO(Non Government Organization) is an international pluralism Charity Foods security in favor of Orphans,other poor kids ,Old people with no revenue and poor villages or communities...and many other sectors to fight illegaly emigration and poverty.

Representante:
Mohammed Keameko
Descripción del proyecto y el trabajo a realizar
Foods security for all,is a project that helps provide foods during the year to all vulnerable people; we succed it by local and international volunteers support and contributions in many ways.

This year, with COVID-19 and many months of lockdown ,we loss 2/3 of our farm seasons ;also no possibility of travelling of international volunteers.

Finaly,things start come litle normaly; but with a great difficults of financials in the World; it's not easy to make great farms that will support all needly people in our charge.

We then need for important apport of donors, volunteers , cooperation world wide to realize this important project ;that saves many vulnerable lives...

Activities

In past ,we work in farms with local possibilities; mobilisation of local volunteers for man power;view that we are late now, we must rent Tractor to make a great farms ;what can save our communities and people out of illegaly emigration and poverty that we fight...

WE WILL BE PROUD TO MEET MANY PARTNERS AND TOGETHER WE REALIZE THIS PROJECT TO SAVE POOR PEOPLE LIVES...
Objetivos del proyecto
Fin de la pobreza
Hambre cero
Salud y bienestar
Educación de calidad
Igualdad de género
Agua limpia y saneamiento
Energía asequible y no contaminante
Trabajo decente y crecimiento económico
Industria innovación e infraestructura
Reducción de las desigualdades
Ciudades y comunidades sostenibles
Producción y consumo responsable
Acción por el clima
Vida submarina
Vida de ecosistemas terrestres
Paz, justicia e instituciones sólidas
Alianzas para lograr los objetivos
Tipo de actividad
Cooperación internacional
Localidad/Barrio
Atakpamé we based, But Nationaly, we work in all regions of Togo;and the farms are in villages...
Número de plazas
35 plazas
Idiomas necesarios
Any language / can volunteering with us
Idiomas hablados por la ONG
French and English
Rango de edad
Indiferente (mayor de 18)
Experiencia requerida
Cultural and Traditional danses, Arts , Building, Farming , Tourism in weekends...
Duración del proyecto
Sin fechas concretas
Horarios del voluntariado
Días de trabajo semanal:
Monday to Friday
Horas/Día:
8 horas al día
Servicios incluidos
Seguro de voluntariado
Cama en habitación compartida
Cama en habitación individual
Desayuno
Comida / Almuerzo
Cena
WC compartido
WC privado
Ducha
Lavandería
Internet
Normas
Open mind, no discriminations, accept to work in team, accept to teach and learn, respect of others and communities we'll working with...