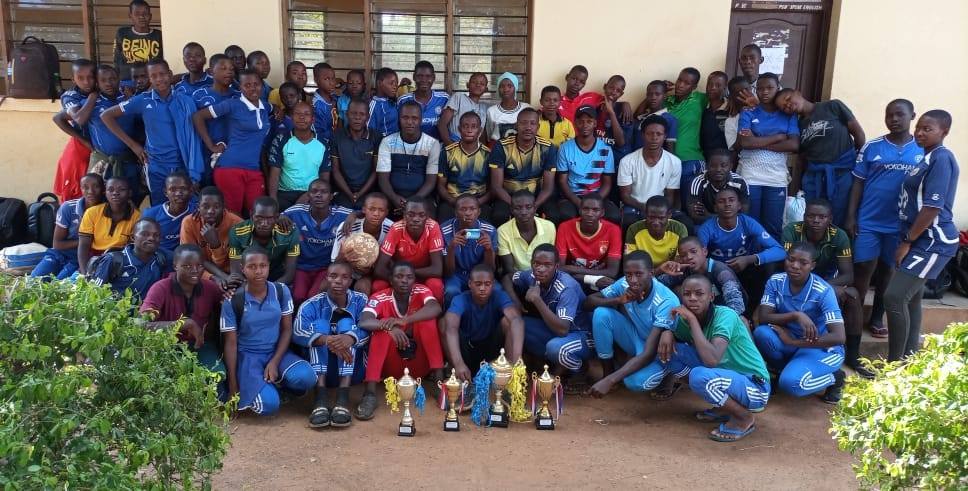 RAPO
RAPO-SPORT TALENTS EMPOWERMENT FOR YOUNG PEOPLE PROJECT.

Representante:
Toke Sadock Kitsindu
Descripción del proyecto y el trabajo a realizar
Redemption Against Poverty Organization-RAPO is the Organization not-for-profit that exists to help people of Geita region to reduce extreme poverty by improving their quality of life through sports talents as one among of its services . RAPO is the only organization promoting sports talents in the region, which include soccer, volley ball, net ball Running, Fitness talents, Entertainment talent, Volleyball, Handball, Cycling talents athletics for schools and communities. RAPO works in partnership with schools and communities in developing the potential of the youth and adults to enable them to overcome extreme poverty by improving their lives through participation in sports talents and physical activity. RAPO has a highly skilled human resource that has the capacity to undertake the campaign of participation in sport in schools and communities, due to their experience and expertise.

We seek to combat extreme poverty for good by strengthening, funding, Empowering local change makers to break the cycle of poverty in their communities. Because RAPO on Sports Talents is a non-profit organization hence we promotes mass participation in sport talents. Our direction is to develop vulnerable and underprivileged young people (boys and girls) from poor family background holistically through development coaching clinics and through a "high performance" coaching programmers. Through all its activities, RAPO for sport talent will be guided by the following five objectives:

Specific objectives: Based on the above general objectives, specific objectives of this project is;
1. To suggest possible solutions to the potential problems of talent identification and selection in Geita region.
2. To increase children and youth participation opportunities in sport, recreation and physical activity in a sustainable manner.
3. To build capacity of primary school teachers and local youth to enhance provision of sport and physical activity services.
4. To increase the level of participation in sport and physical activity for children and youth in rural areas to improve their health and well being.

Strategy and Implementation Summary.
It is critical that RAPO Sport talent takes a proactive strategy in promoting its program in the community as well as creating a strong fund-raising program. To accomplish these goals, RAPO Sport talent will have two groups overseeing the program's growth and development. The first will be a 12-member Program Services Group comprising of community members. This group will provide oversight of the program's service delivery to the community and will also be responsible for building community support for RAPO Sport talent. The second group will be a 10-member Finance Group that will have RAPO business representation. The Finance Group will have oversight over the program's fiscal operation and fund-raising activities.

The next step will be to recruit the volunteer coaches and facility supervisors for each season and use this group to promote the program at local schools. Coaches and facility supervisors will be recruited by using the community churches and civic organizations. In addition, the Geita town council Department is initiating a new program to recruit volunteer youth coaches from their own ranks. RAPO Sport talent tool is also working with the Community Service Program of State University to recruit college students as coaches. They will receive three university credits hours for their participation with RAPO Sport talent tool.
Mobilizing a coaching/supervision base will provide RAPO Sport talent the people power necessary to get its message to the entire community.
Sign-up for the program will be simplified by providing participation forms at each school and at the larger community markets. At each location, there will be a collection kiosk where the forms can be dropped off.
Objetivos del proyecto
Fin de la pobreza
Hambre cero
Educación de calidad
Agua limpia y saneamiento
Energía asequible y no contaminante
Trabajo decente y crecimiento económico
Industria innovación e infraestructura
Ciudades y comunidades sostenibles
Acción por el clima
Tipo de actividad
Voluntariado internacional
Número de plazas
7 plazas
Idiomas necesarios
English and French
Idiomas hablados por la ONG
English / French and Swahili
Coste
15,000 USD
To buy Sport Equipment's for donation towards the selected schools.
Rango de edad
Indiferente (mayor de 18)
Experiencia requerida
Sport skills Experience.
Duración del proyecto
Sin fechas concretas
Horarios del voluntariado
Días de trabajo semanal:
Monday-Saturday
Horas/Día:
8 horas al día
Servicios incluidos
Seguro de voluntariado
Cama en habitación individual
Desayuno
Comida / Almuerzo
Cena
Ducha
Internet
Normas
Must agree our Volunteer policies.