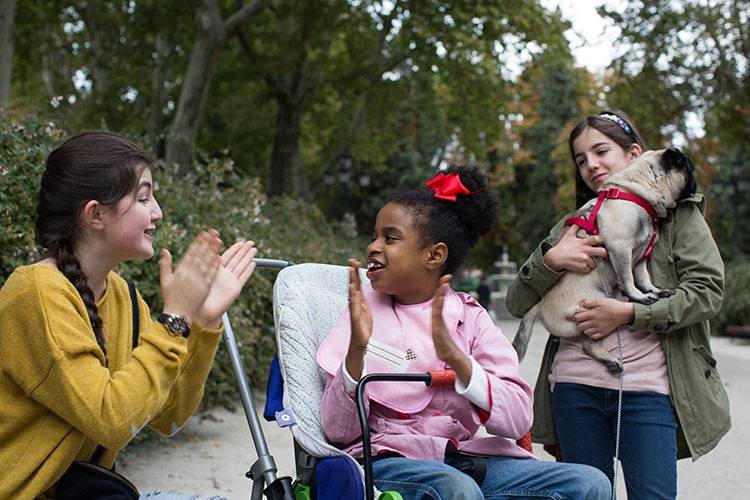 Nadie Solo Voluntariado
Voluntariado familiar con niños/as discapacitados/as

Representative:
Cristina Fernandez-Martos
Description of the project and the work to be done
La familia voluntaria elige cinco mañanas de sábado del curso escolar para hacer voluntariado en familia. El sábado asignado la familia recoge al niño en su casa para reunirse después con el resto de familias voluntarias de su grupo y realizar la actividad organizada por NadieSolo. Durante dos horas los niños disfrutan de ludotecas, juegos, visitas, en definitiva se divierten en un marco de convivencia. Al terminar la actividad, cada familia acompaña al niño de vuelta a su casa. Con este programa el menor con discapacidad intelectual disfruta de un tiempo de ocio inclusivo, necesario para su desarrollo. De igual manera, los padres cuentan con una mañana cada quince días para realizar otras actividades a las que habitualmente no pueden acceder. El voluntariado familiar es un espacio para crecer en solidaridad en la propia familia, enseñando y educando en la práctica y sobre el terreno.
Project Objectives
No poverty
Good health and well-being
Quality education
Reduced inequalities
Type of activity
Local volunteering
Number of places
50 places
Languages needed
Castellano
Languages spoken by the NGO
Castellano / Ingles
Age range
Indifferent (over 18)
Experience required
Dirigido a familias que quieren dar un poco de su tiempo libre y de ocio a niños con alguna discapacidad para que éstos puedan disfrutar de un ocio inclusivo junto con otros niños de sus mismas características. Familias cariñosas, con empatía que sepan compartir y disfrutar de estos momentos.
Project duration
No specific dates
Rules
Capacidad de aprendizaje, Optimismo y entusiasmo, Flexibilidad, Fiabilidad técnica y personal, Comunicación interpersonal
Other projects of this NGO